Entrevistas, KiteGirls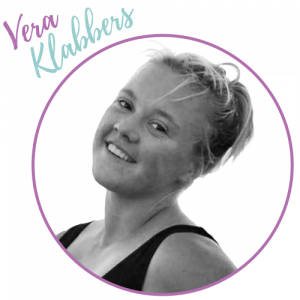 RIDER PROFILE 
Nome/Name: Vera Klabbers
Data de nascimento/Date of Birth: 6/05/1998
Nacionalidade/Nacionality: Holandesa / Dutch
Home spot: Vrouwenpolder, Zeeland
Anos de Kite/Years Kitting: 8
Patrocínios/Sponsors: RRD International, Nikkei electronics e Islandtribe sunscreen
Título/Titles: 2x Campeã Mundial de Júniores freestyle /2 times junior world champion freestyle
              Campeã Europeia de Júniores / European junior champion
              3x Campeã Holandesa de Júniores / 3 times dutch junior champion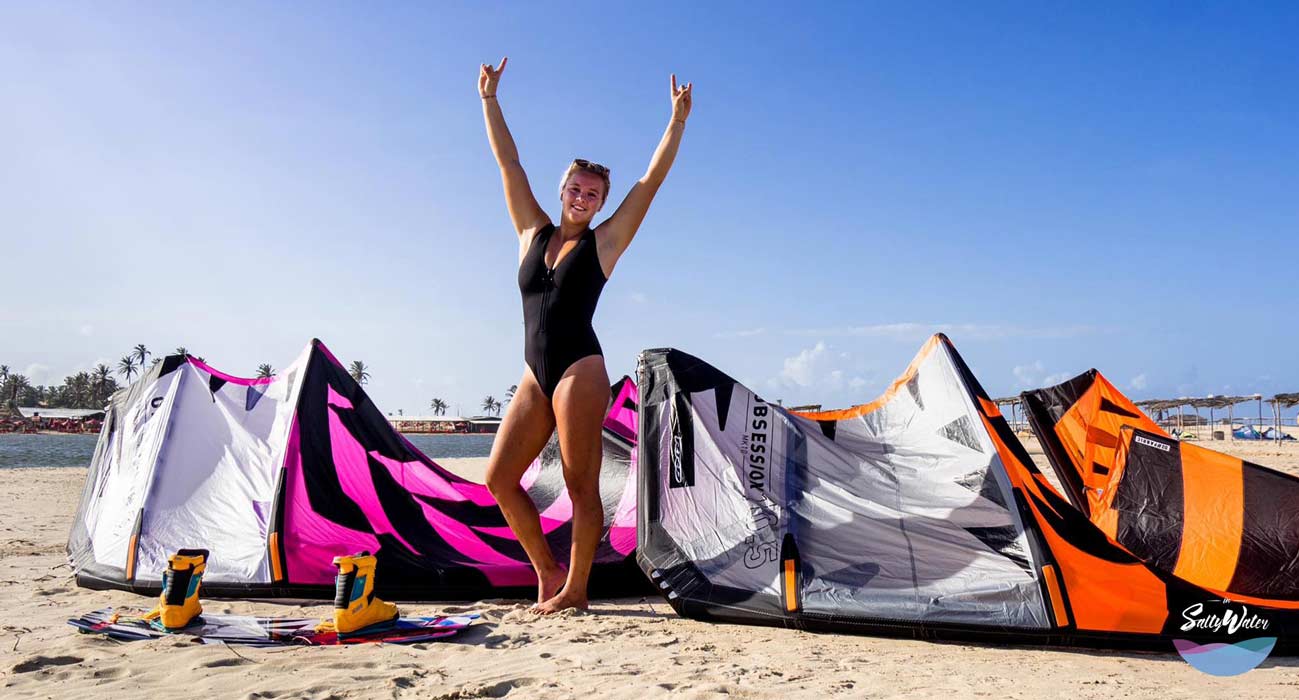 A Vera Klabbers é uma Kitesurfista Holandesa de 19 anos que compete ao mais alto nível no circuito mundial de Kitesurf na modalidade de Freestyle.
Neste momento a Vera encontra-se em Leucate (França), a participar na prova mundial de GKA Air Games.
Começou no kite apenas com 12 anos de idade influenciada por uma família muito ligada aos desportos náuticos como Windsurf e, mais tarde também, pelo Kitesurf.
O meu pai foi quem me ensinou kitesurf, o que para mim é muito especial. Os momentos mais especiais são as sessões quando a família vai toda junta para dentro de água. Eu tenho dois irmãos mais velhos que fazem kitesurf e a minha mãe também, independentemente das condições sessões de kite em família são definitivamente as melhores!
EN
Vera Klabbers is a 19 year old Dutch kiteboarder who competes at the highest level of the Kitesurf World tour in Freestyle.
At this moment Vera is in Leucate (France), participating on the world competition GKA Air Games.
She started kitesurfing only with 12 years old influenced by a family connected to the water sports as Windsurf and later Kitesurf.
My dad was the one who taught me kitesurf, which for me still is very special. The most special moments are the sessions when we as a family are all out on the water together. I have 2 older brothers and we are all kitesurfing my mum as well no mather the conditions family sessions are definitely the best!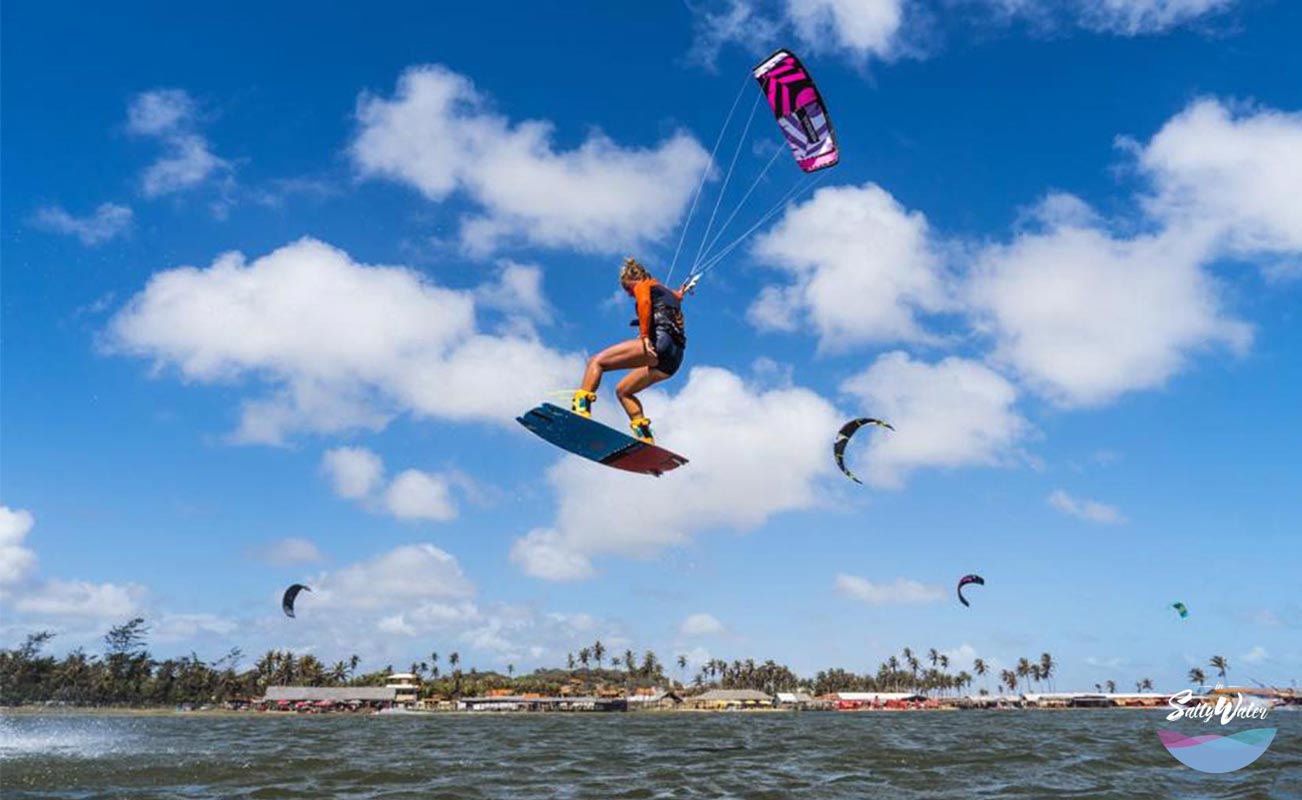 A competição entrou na sua vida através dos seus irmãos. Percebeu desde cedo que tinha um lado competitivo e que ainda hoje perdura. Quando se tornou 2 vezes campeã mundial de Juniores foi um dos momentos mais especiais para si.
Ganhar os juniores manteve-me motivada e fez com que eu quisesse ir competir no campeonato mundial de freestyle, no qual onde me encontro actualmente a competir. O ano que passou foi o meu primeiro ano a competir no circuito e estou orgulhosa das minhas conquistas e prestação. Vamos ver o que este ano me vai trazer!
No dia-a-dia das competições, o espírito alegre e animado permanece entre os participantes. A Vera diz que durante a competição está tudo muito focado nos seus objectivos, que claro que é ganhar, mas fora da competição prevalece um ambiente simpático e animado entre as adversárias
EN
The competition entered in Vera's life through her brothers. She realized early on her competitive side that she still remains. When she became 2 times world champion it was one of the most special moments for her!
Winning the juniors kept me motivated and made me want to go and compete in the freestyle world tour ladies in which I am competing at the moment. The past year has been the first year on tour for me and I am proud of my achievements and performance, let's sees what this year is going to bring.
In day-to-day of the competitions, the cheerful and lively spirit remains among the participants. Vera says that during the competition everyone is focused on their goals, which of course is to win, but outside the competition there is a friendly and lively atmosphere between the opponents.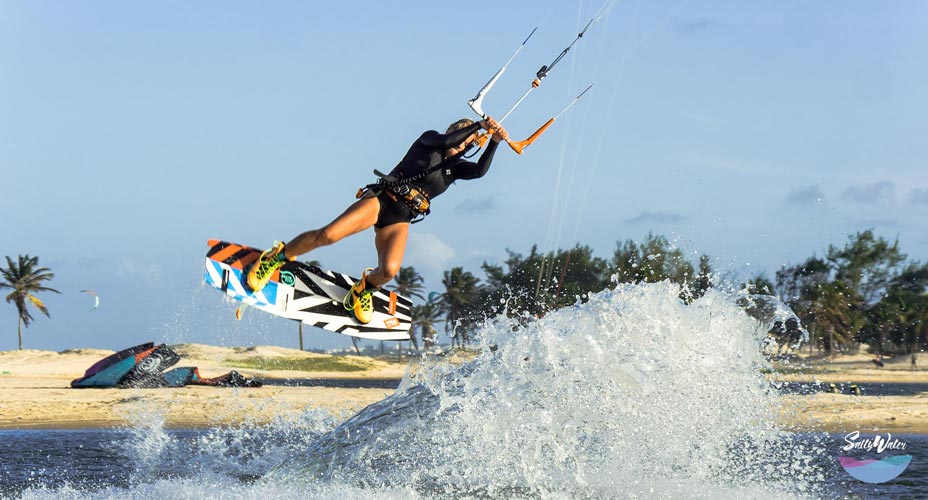 Para a Vera o exercício faz parte da sua vida e considera ser muito importante estar em forma não só dentro de água mas também fora dela. Usa o desporto para se manter em forma e para manter a cabeça limpa de preocupações. Gosta muito de correr, especialmente com os seus dois cães, pegar na sua bicicleta e para relaxar adora praticar Yoga. Em paralelo com o Kite a Vera está a estudar Economia de Marketing, o que por vezes, pode ser algo difícil mas considera uma boa mistura.
EN
For Vera, exercise is part of her life and considers that it's very important to be fit not only in the water but also outside of it. She uses sports to keep fit but also keep her mind out of worries. She likes to run, especially with her two dogs, grab her mountain bike and to relax she loves to practice yoga. Combining with kitesurf Vera is also studying marketing economics, that can be hard to combine but for her is a good mix.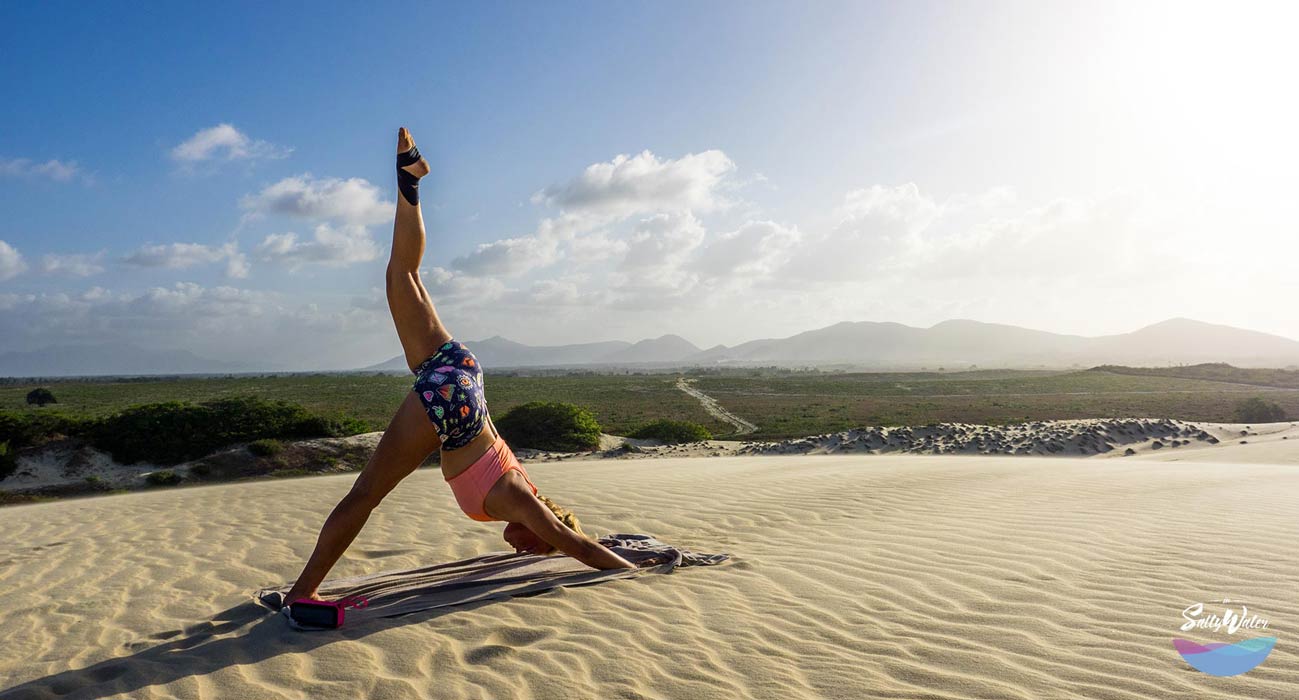 Gosto de partilhar a minha paixão com os outros. O que eu mais gosto no coaching é ver alguém a sair da água com um enorme sorriso! Ensinar alguém algo novo independentemente do passo dado, dá um enorme sentido de satisfação.
I like to share my passion with others. What I like more about coaching is seeing someone getting out of the water with a big smile. Teaching somebody something new no matter how small or how big the step was gives a satisfied feeling."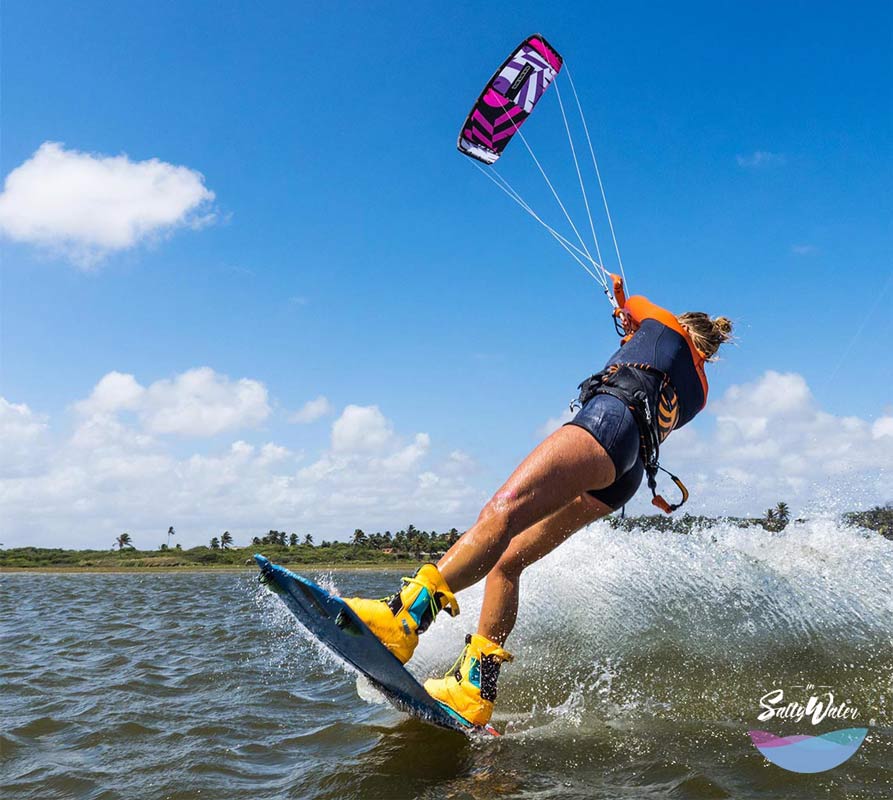 Com as competições e com o coaching nas Girlzactive, a Vera já viajou por alguns países. Considera que o Brasil é o seu sítio preferido para treinar no freestyle, mas descobriu na África do Sul, na Cidade do Cabo, um lugar magnífico onde pode combinar diferentes estilos com a natureza deslumbrante.
Um dos meus sítios preferidos, não sendo muito original, é o Brasil. A água lisa e o tempo quente, combinado com bom vento é a combinação perfeita para o Freestyle no Kitesurf. Este Fevereiro, visitei a Cidade do Cabo pela primeira vez, que tem uma natureza lindíssima e imensa variedade de coisas para fazer. Para o freeestyle eu adoro o Brasil, mas em relação à beleza natural, kiteloops, saltos altos e ondas, a cidade do cabo é um sítio maravilhoso. Não esquecendo o meu país, a Holanda que tem praias a perder de vista.
EN
With competitions and coaching for Girlzactive, Vera has traveled to some countries. She considers Brazil as the best spot to practice freestyle, but recently she discovered Cape Town as a magnificent place where you can combine different styles of Kitesurf with an amazing nature.
One of my favorites, although it's not a very original place is Brazil. The flat water and the warm weather, combined with a nice breeze, are the perfect combination for freestyle kitesurfing. This February, I visited Cape Town for the first time, beautiful nature with a lot of variety and things to do. For freestyle I love Brazil, but for the environment, kiteloops, jumps and wave riding, Cape Town is a beautiful place. Not to forget my home, The Netherlands with its endless long beaches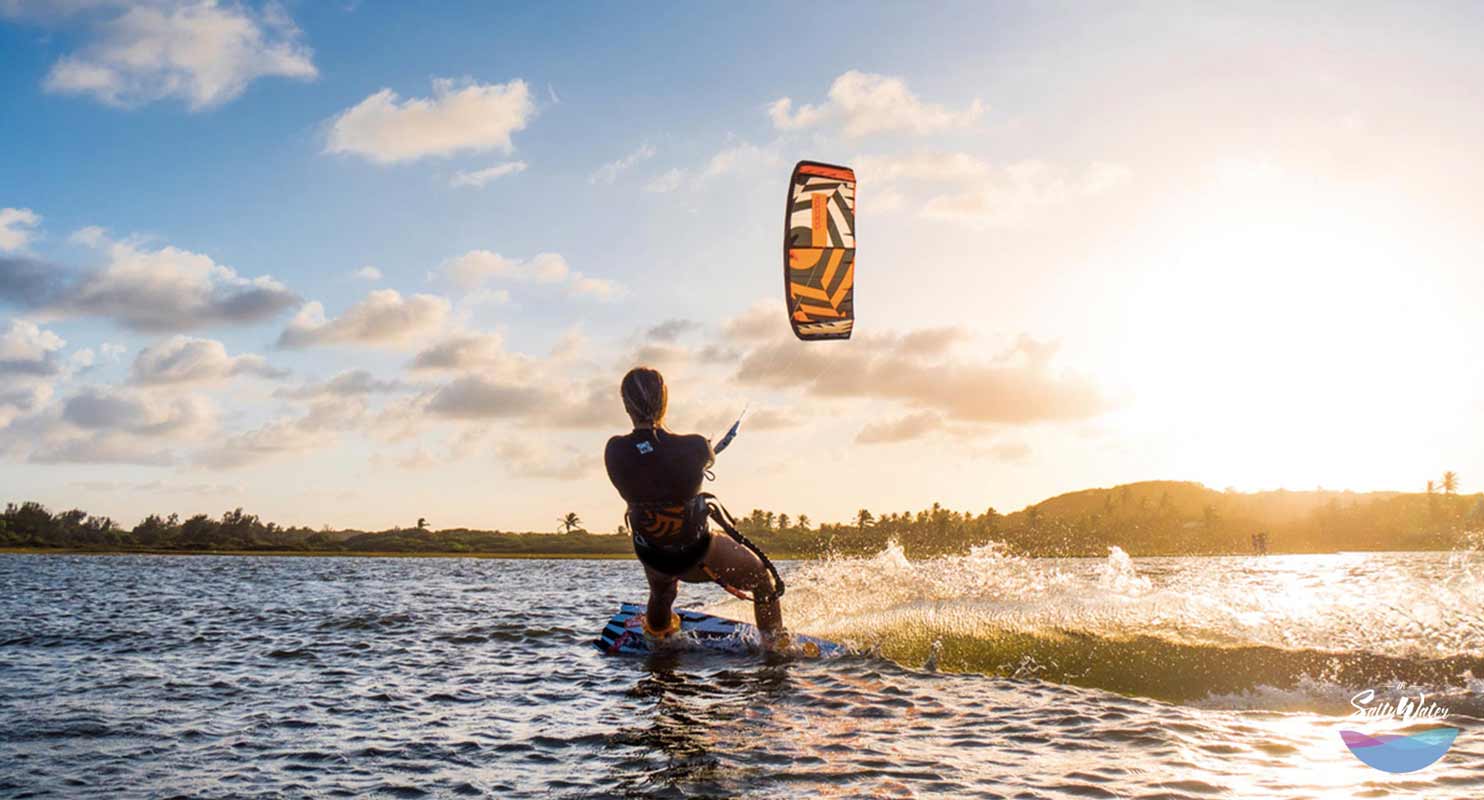 Eu visitei Portugal várias vezes de roulotte de campismo. Conduzir desde o Norte ao Sul e vice-versa. Visitei muitos sítios e gostei muito do país. No verão europeu é um dos meus sítios preferidos. Não tenho planos recentes para uma viagem a Portugal, mas de certeza que vou visitá-lo em breve.
I visited Portugal several times with a Camper Van. Driving from North to South and the other way around. I visited a lot of different spots and really enjoyed being in the country. In European summers i think it is one of my favorite places. I haven't really planned a trip to Portugal but I think I am definitely going to visit the country soon again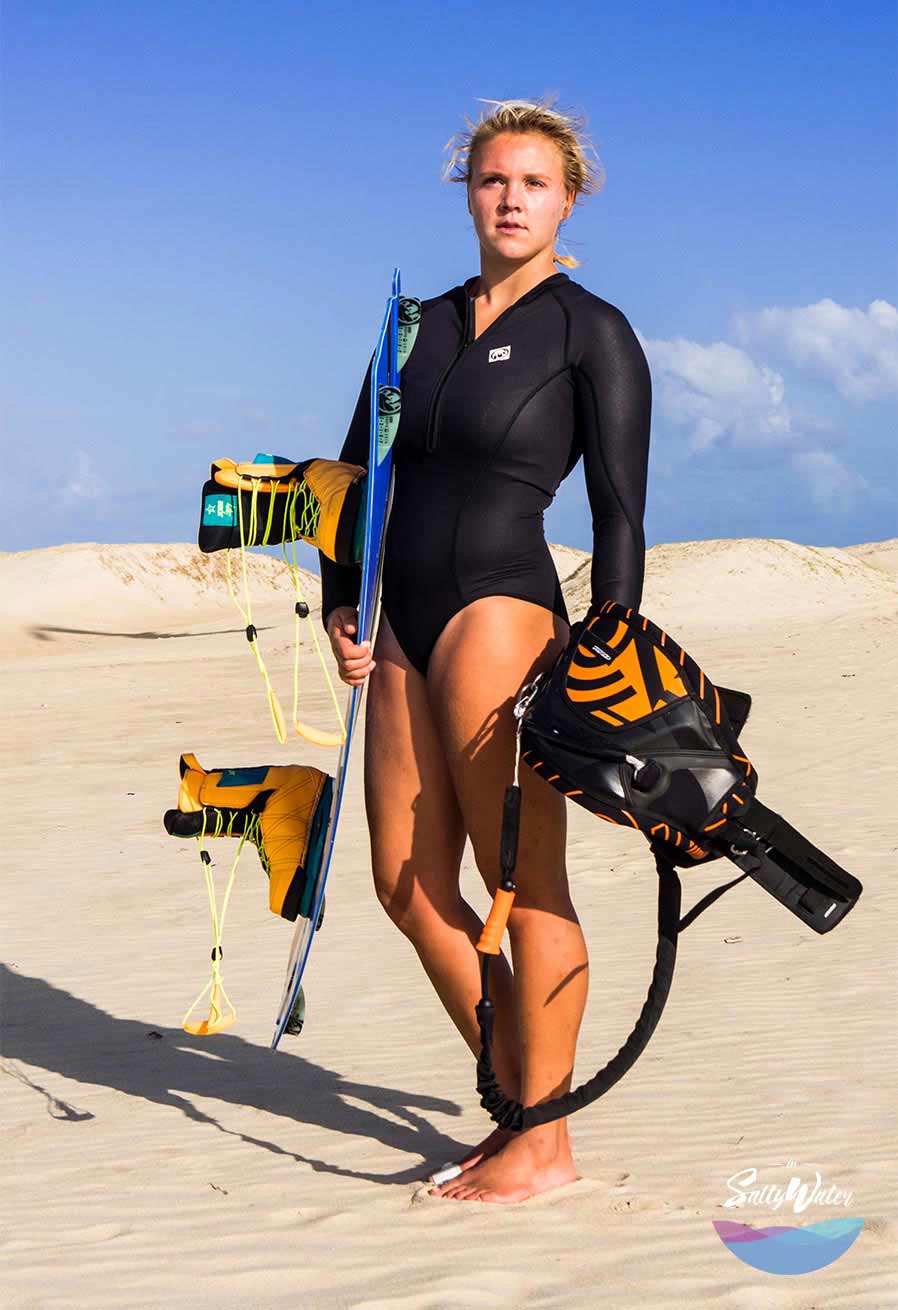 Para a Vera os objectivos para o futuro só se alcançam com muito trabalho. Mas gostava muito que houvesse uma competição para raparigas de Kiteloops, tal como já existe o Megaloop challenge e o King of the air. Também quer continuar a aproveitar os ventos e viajar descobrindo sítios novos para o kitesurf, com a mesma paixão de hoje.
Pedimos à Vera para deixar uma mensagem a quem está agora a começar Kitesurf.
Primeiro digo para nunca se esquecerem porque começaram a praticar Kitesurf. Na maioria das vezes foi porque adoraram, certo? Então, sempre que o progresso não for muito rápido, ou tenham um contratempo, tentem sempre lembrar-se desse momento inicial e lembrem-se porque é que gostam. Sempre que fazem algo que adoram as coisas começam a vir naturalmente e mais facilmente, pelo menos é a minha experiência.
EN
For Vera, goals for life only come with hard work. But she would love to see a kiteloop competition for girls, just like the megaloop challenge and the King of air. She also wants to continue travelling and discovering kite spots around the world, enjoying the winds with the same passion like today.
We've ask Vera to leave a message for those who are starting kitesurf.
First of all I would say that you must never forget why you actually started kitesurfing. In the most cases this was because you really liked it right? So whenever you are not learning as fast as you hoped or when you have a setback always try to go back to that beginning and remind yourself you are doing it because you like it! Whenever you do something you like things will naturally come more easy, at least that's the way I experience it.
Dreams stay just dreams if you don't work hard on them, so better get out there and start working on it

Vera Klabbers